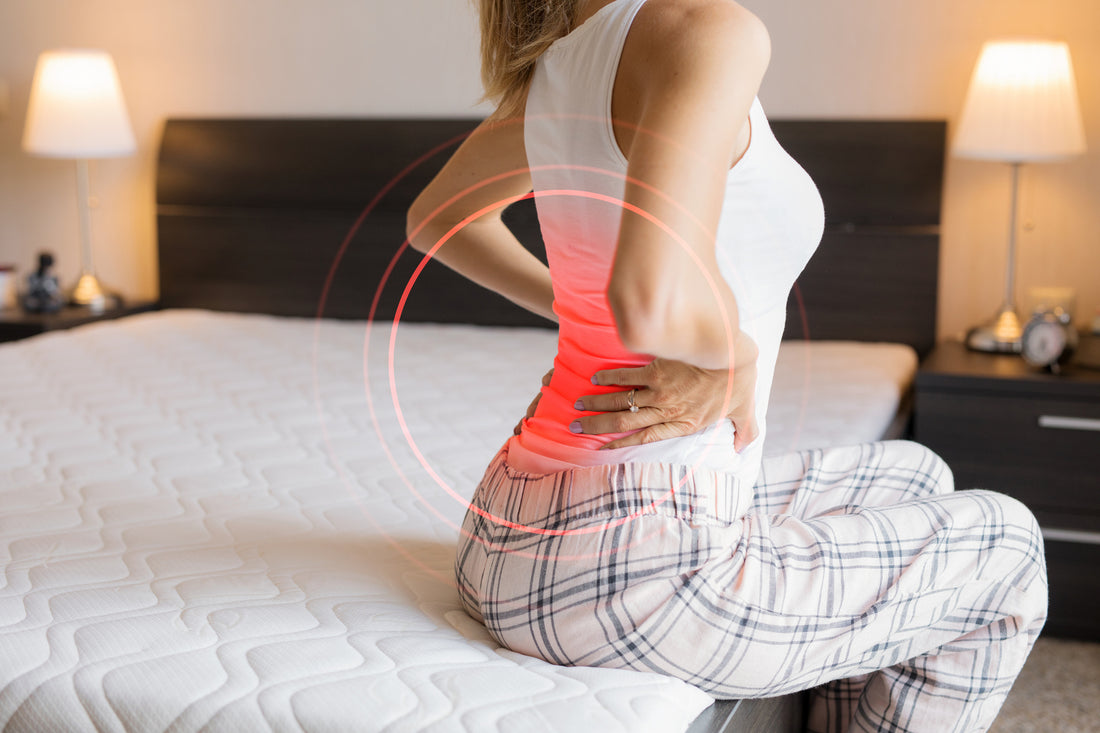 Which Mattress Is Best For Back Pain?
Choose a mattress that has got your back.
One in six Australians experience back pain. There are two main categories of back pain; chronic and acute. Even if you haven't had chronic back pain, you are likely familiar with the horrible feeling of tenderness in the back.
Unfortunately, there are a lot of mattresses available that can considerably worsen back pain and, in some cases, cause it. As a result, choosing the right mattress is essential as it could be the difference in alleviating pain and aggravating it. If you're buying a new mattress and you suffer from back pain, it's crucial to know what to look out for that will curb suffering and aid in your relief.
Good Spine Alignment
Bad posture dramatically contributes to the cause and aggravation of back pain. It would be best if you had a good posture while you sleep and do not allow your spine to curl. The muscles and ligaments in our back need time to relax and recover while we sleep. A mattress that is too hard or too soft will not properly support your spine, neck and lower back.
Make sure the mattress you buy has a stable even surface to promote a good spine posture while you sleep.
A Medium-Firm Mattress
A medium-firm mattress is going to give you more support while you sleep. This is because when you are on a firmer mattress, your bones absorb most of the pressure, leading to less stress on your muscles, veins and arteries. If a bed is too squishy, your lower back will often collapse, impacting the amount of oxygen intake getting to the lower back.
Memory Foam
Memory Foam is a favourite amongst Osteopaths for patients with bad backs. NASA initially invented it to allow cushioning for astronauts in Spacecrafts and provide support against the high pressure of the G Force. Since then, it has become a staple in high-quality couches, pillows and mattresses due to its ability to conform to the specifics of your body, providing pressure point relief and better lumbar support.
Memory Foam is highly beneficial if you are suffering from Sciatica as it helps alleviate pressure and cushion the heavier parts of the body.
Another benefit of memory foam is it has zero transfer. This means that it stops your partner's movements from affecting your position while you sleep.
100-Day Guarantee
Ultimately everyone's body is different. The best person who can measure your level of pain is you. The size of your hips and your weight can impact the pressure put upon a mattress. It's so important to have a trial when buying a bed so that you can see whether it works or, in some cases, increases pain within your back. With Dusk and Dawn's 100-day guarantee, you allow for the time you need to evaluate the effect of the mattress on your back. Sleep on one of our mattresses for 100 nights to ensure you've chosen the best support for your back.
The Best Result for your Back
While there isn't yet a mattress that eliminates back pain, it's essential to understand what to look for that will give you the most improved experience. Dusk and Dawn mattresses were voted best mattress for back pain by bed buyers. Try out one of our signature mattresses for 100 nights and feel the difference.