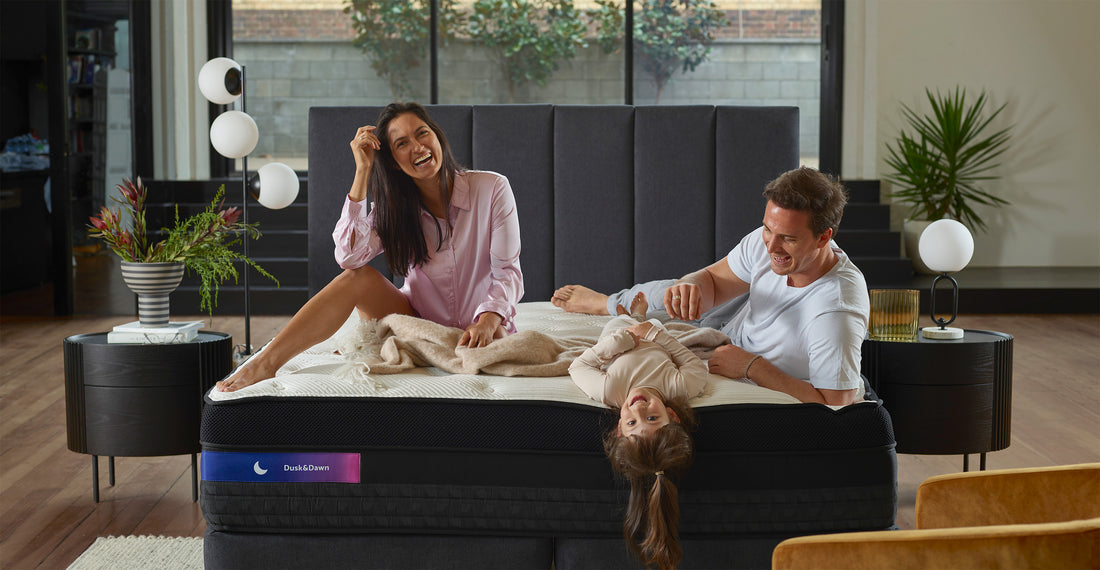 Father's Day Gift Guide with Dusk&Dawn
Looking for a last-minute gift idea for Dad for Father's Day 2023?
Look no further than Dusk&Dawn who offers luxurious Australian-made mattresses and quilts, plus premium pillows (made in Italy). All products designed to spoil Dad and help him enjoy the ultimate gift: a good night's sleep.

Gift idea #1 - Dusk&Dawn's Signature MK2 Mattress - RRP $3849 (King Size)
Give Dad the ultimate gift this Father's Day with Dusk&Dawn's Signature mattress range. The 100% Australian-made Signature Mk2 mattress is the flagship of the collection and is pure luxury. It is crafted with the highest quality materials and premium Australian comfort, allowing you to relax, drift away and indulge in the ultimate comfort. The range is tailor-made to order by Dusk&Dawn's skilled mattress makers.
Additionally, the mattress comes with a 100-day comfort guarantee, providing you and Dad with the ultimate peace of mind. 

Gift idea #2 - Dusk&Dawn's Eco Tencel™ Quilt - RRP $499 (King Size)
Why not spoil Dad to a new luxury quilt? Dusk&Dawn's new Tencel™ quilt is proudly made in Australia using the finest and highest quality materials and is designed for the ultimate comfort with temperature regulating and moisture absorbing materials. The soft and snuggly eco-friendly quilt provides perfect temperature control, all year round. Crafted from exquisitely soft Tencel™ fill, which is responsibly sourced from managed Eucalyptus tree plantations. This beautifully breathable quilt has a light and silky touch to enhance your sleep and is the perfect way to spoil Dad. 

Gift idea #3 - Dusk&Dawn's Aloe Sense Pillow - RRP $149
Treat your Dad to the indulgent Italian-made Aloe Sense Pillow and let him experience the soothing properties of Aloe Vera. These luxury pillows are made using only the finest of materials. The pillows are enriched with Aloe Vera micro-capsules and offer unparalleled comfort and support while delivering a range of health benefits, including antibacterial properties that make it an ideal choice for those with sensitive skin or allergies.

This Father's Day, give your Dad the gift of sleep with Dusk&Dawn's premium range of Australian-made mattresses and quilts and luxury Italian pillows. Shop now at www.duskanddawn.com.au and make this Father's Day an unforgettable one for your Dad.