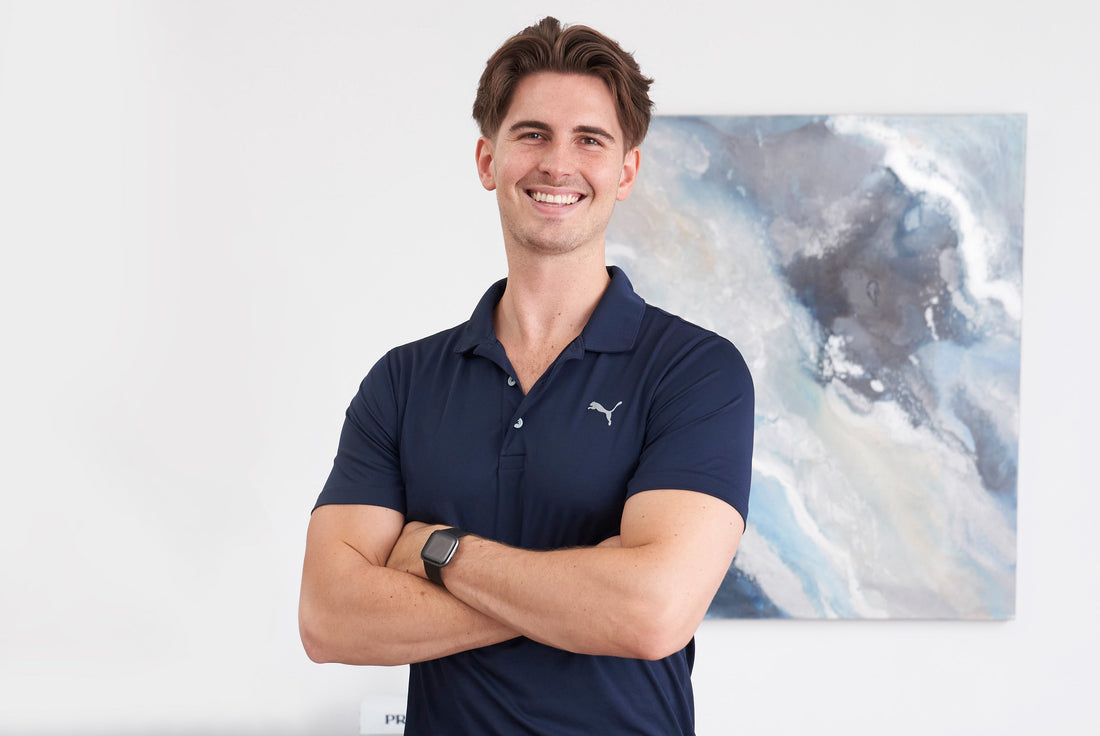 Choosing The Right Mattress For Your Back With Dr Andrew Harkin
As one of Melbourne's leading Osteopaths, Dr Andrew Harkin has helped hundreds of patients reduce their pain and overcome injuries, improve their mobility and strength, allowing them to get back to doing what they love.
We were delighted when Dr Andrew chose a Dusk&Dawn mattress and bed base and caught up with Andrew to hear his thoughts on his luxurious new bedding.
Why did you choose a Dusk&Dawn Mattress?
I've tried other mattresses that come to you rolled up in a box, and found they either lack quality or are too firm. I saw that Dusk&Dawn had good reviews, the mattress doesn't come in a box, it's Australian-made, which I love to support, and uses quality materials, so I thought I'd give it a go. 10 days in and it's been a great choice already compared to other offshore made mattresses I've tried.

Which mattress did you choose?
I chose the King Signature MK2 in medium firmness. (Andrew's choice of mattress is pictured below.)

What do you love about the mattress?
It's incredibly comfortable. Definitely the most comfortable mattress I've tried that also has good quality support for muscles and joints. I also love how high and thick it is.

Tell us about the delivery experience?
The delivery process was seamless. I got a message from the delivery driver saying he was on his way, then he also helped us carry in the mattress.

In your opinion, what are the key differences between a 'Mattress in a Box' and a premium Dusk&Dawn Mattress?
I think the overall quality and size of the mattress are the two main differences. My Dusk&Dawn mattress is much thicker and seems to be better quality than boxed delivery mattresses that I've tried. It's also a lot softer, which I prefer.

What are the best ways to choose a mattress? What are the key things to
consider?
The most important thing when choosing a mattress is comfort and quality of materials used. Your number one priority is getting a good nights sleep, so ensuring the mattress is comfortable for you is the highest priority. I also think purchasing from a company like Dusk&Dawn who offers a 100-day comfort guarantee is something you should always look for.

How do you know which mattress is right for you?
You'll know if a mattress is right for you if:
- It's comfortable;
- It allows you to consistently get a good nights sleep; and
- You're not waking up sore.

Which type of mattress firmness is best?
Studies have shown that medium firmness is the best for back pain. People tend to assume that firmer is better, however that's not the case. I'd recommend a medium to soft mattress for most people with back issues.
Does the size of the mattress impact on the quality of sleep?
It definitely can if you share your mattress with a partner or your little ones are jumping in the bed at night. I've gone the king size as I prefer not to be touched whilst sleeping, so that way my partner and I have enough room to stick to our sides.

Why is choosing the right mattress so important for back health?
Sleeping is when our body and brain recovers. If you're not getting quality sleep, or your mattress isn't right for you, it's going to be very difficult to overcome pain and injuries, as well as prevent them from occurring in the first place.

What are the impacts of a poor quality mattress?
A poor quality mattress will not only impact the quality of your sleep, impacting your mood and cognitive abilities, but you're more likely to wake up sore. A mattress should support your joints and muscles so that everything can relax throughout the night.

How frequently should you replace your mattress?
The general rule is every 6-8 years you should replace your mattress. I think if it's at 8 years and you still feel comfortable and are able to get a good nights sleep on that mattress, then there's no need to change it over yet.

Any final comments or thoughts on your Dusk&Dawn mattress?
Highly recommend! As I've mentioned, this is the most comfortable yet supportive mattress I've ever owned, and have had quality sleep since it arrived.
​
You can find Andrew on Instagram @Dr.Andrew.Harkin where he shares tips on how people can improve the way their body feels and moves.