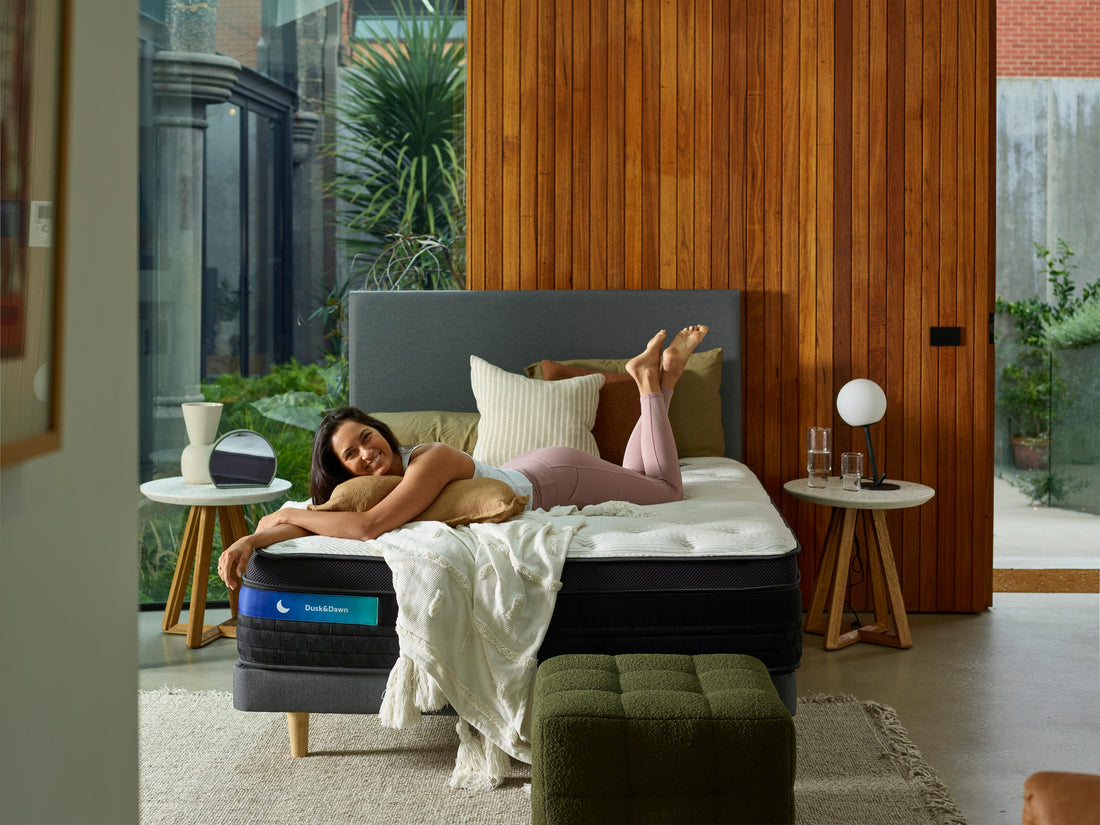 Celebrating World Sleep Day 2023 – Dusk&Dawn's Top 5 Tips for Better Sleep
This Friday, March 17, 2023, is World Sleep Day.
World Sleep Day is an annual internationally recognised event that raises sleep health awareness among researchers, health care workers, patients and the public.
The theme for this World Sleep Day is 'Sleep is Essential for Health' and Dusk&Dawn is proud to be supporting this important initiative by helping to spread the word about the importance of sleep health and elevating the conversation around healthy sleep.
Sleep is a vital activity that helps us recharge and prepare for the day ahead. However, in our fast-paced world today, many struggle to get adequate sleep, which can affect our overall health and well-being.
Here are our Top 5 Tips for better sleep for World Sleep Day 2023:
Sleep Tip #1: Create a consistent sleep schedule.
Going to bed and waking up at the same time every day trains your brain to recognize when it's time to sleep and when it's time to wake.
Getting enough sleep is just as important as staying active and eating well. However, it requires discipline and consistency to achieve quality sleep. One of the most effective ways to improve your sleep is by sticking to a regular sleep schedule.

When you set a schedule for going to bed and waking up each day, your brain starts to recognise this pattern and becomes accustomed to it.
Sleep experts recommend establishing a consistent sleep-wake cycle that allows you to get adequate rest each night. Ideally, adults should aim for 7-9 hours of sleep per night, while teenagers need around 8-10 hours, and younger children require even more. The key is to create a schedule that works for your lifestyle and stick to it as best as possible.
By following a consistent sleep schedule you can fall asleep more easily, stay asleep longer, and wake up feeling rested and refreshed each day. By establishing a routine that works well for you, you can improve your overall health, mood and productivity levels.
Sleep Tip #2: Limit your exposure to electronic devices.
Turn off that TV and put your phone down at least 30 minutes before you go to bed. Electronic devices emit blue light, which your brain perceives as sunlight, tricking it into delaying sleep and disrupting your sleep-wake cycle.
In today's fast-paced world, we are often glued to our phones, laptops and TVs, even as we lie in bed late at night. However, what many don't realise is that the emitted blue light can severely disrupt our natural sleep-wake cycle.
The blue light emitted by our devices tricks our brain into thinking that it is still daytime. This leads to a delay in the production of the sleep-inducing hormone, melatonin. As a result, we find it harder to fall asleep and stay asleep, which can negatively impact our overall health and well-being.

To minimize the negative effects of blue light on our sleep, it's crucial to turn off electronic devices at least half an hour before bedtime. This will give our brains enough time to wind down and prepare for sleep naturally. By being conscious of our device usage and limiting our exposure to blue light, we can improve the quality of our sleep and lead healthier, more productive lives.
Sleep Tip #3: Upgrade your bedding at least every 5–8 years.
It's recommended that you replace your mattress every 5-8 years, or earlier if you notice any signs of wear and tear. Over time, mattresses can lose their firmness and support, causing discomfort and pain in your body.
A recent study conducted on the effects of a new mattress for 28 days revealed that it significantly reduced back pain, shoulder pain, and back stiffness. Participants who slept on a new mattress reported a 57% reduction in back pain, 60% reduction in shoulder pain, and a 59% reduction in back stiffness compared to those who continued using their old mattress.
This study highlights the importance of investing in a good quality mattress that provides proper support and comfort for your body. Lack of proper support can cause muscle tension, which results in pain and stiffness in your back, neck, and shoulders. By upgrading your bedding, you can improve the quality of your sleep and reduce the risk of developing chronic pain conditions.
Sleep Tip #4: Create a relaxing bedtime routine.
Relaxation techniques are a powerful tool that can help people with sleep difficulties, such as insomnia. These techniques include meditation, visualization, and other calming activities to create a state of relaxation that sets the stage for sound sleep. 

One of the most effective ways to relax before bed is by listening to relaxing music. Music can have a profound impact on our mood and emotions, and slow, soothing melodies have been shown to reduce stress and anxiety, which can help you fall asleep more quickly and stay asleep longer. Similarly, reading a book can help calm your mind and distract you from racing thoughts, making it easier to drift off.

Another popular relaxation technique is taking a hot bath or shower before bed. The warm water can help ease muscle tension and soothe achy joints, while the steam can relax your mind and body. Yoga is also a great way to unwind before bed, as the gentle stretches and poses help release tension and promote relaxation.

Meditation and deep breathing exercises are also proven tools for improving sleep quality. By focusing on your breath and quieting your mind, you can experience a deep sense of relaxation that can help you fall asleep faster and wake up feeling more rested. 
Incorporating relaxation techniques into your bedtime routine can have a significant positive impact on your sleep quality and overall health. Whether you prefer music, reading, yoga, or meditation, finding what works for you is key to enjoying a good night's sleep.
Sleep Tip #5: Replace sagging mattresses.
Almost all mattresses will sag over time, however a sagging mattress can lead to uneven spinal support, which causes pressure to build up in your back and neck as you sleep. Investing in a quality mattress and pillow will ensure that your spine gets the proper support it needs to avoid aches and pains and ensures your body enjoys the ultimate relaxation it deserves.
Sagging occurs naturally over time due to the weight and pressure of our bodies as we sleep. However, if you have an older mattress or one that is made from cheaper materials, it may begin to sag earlier than expected.
When a mattress sags, it creates uneven pressure points along the spine. This can cause discomfort and even lead to long-term health problems, such as chronic back pain or herniated discs. Additionally, a sagging mattress can disrupt your sleep and make it difficult to feel rested and refreshed in the morning.
Replacing a sagging mattress is an investment in your health and well-being. By choosing a high-quality mattress that provides proper support and comfort, you can improve your sleep quality and reduce the risk of developing chronic pain or other health conditions. When shopping for a new mattress, look for options that offer varying levels of support, such as firm or soft models, and consider factors such as material, size, and durability. With the right mattress, you can wake up feeling energized and ready to face the day ahead.
By following these simple tips, you can improve your sleep and wake up feeling refreshed and energized. Let's celebrate World Sleep Day 2023 by prioritizing our sleep and making healthy sleep habits a part of our daily routine.
For further information about World Sleep Day, visit https://worldsleepday.org/.
To celebrate World Sleep Day, Dusk&Dawn is offering up to $750 off our luxury Australian-made mattresses. Simply use code WSD200 and you will save a further $200 off already discounted mattresses. Experience the best sleep of your life, this World Sleep Day with Dusk&Dawn.