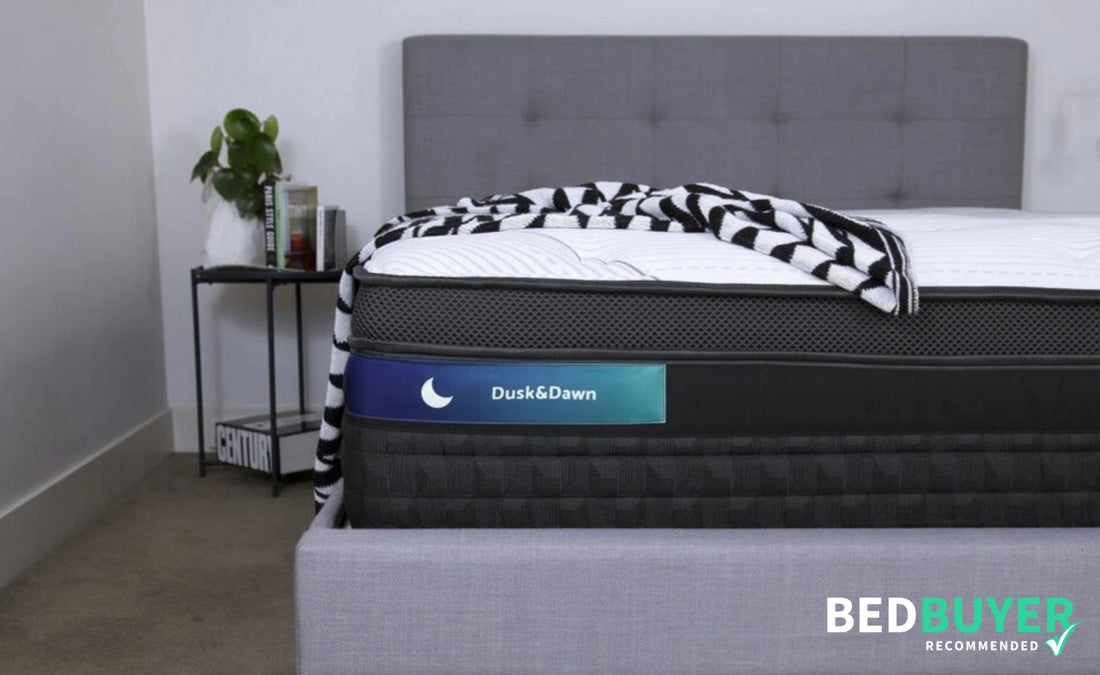 Bed Buyer Highly Recommends Dusk&Dawn in 2021
Signature Mattress range rated the number 1 mattress for back pain.
The Premiere Mattress is rated among the top 10 out of 1500 independent reviews.
We can all agree that a bed is one of the most important household items you can purchase. But how do you choose from all your options?
Bed Buyer's site is designed to remove some of the confusion that comes with mattress shopping. There are so many retailers to choose from, not to mention many online companies now selling 'bed-in-a-box.'
To make bed shopping easier, Bed Buyer gathered a team of specialists, chiropractors, physiotherapists, and sleep-scientists to help Australian consumers navigate the market and get the best value for their investment by providing unbiased, easy-to-understand reviews.
Bed Buyer have taken over 1500 reviews and distilled them down to the top ten mattresses in 2021. Dusk and Dawn is proud to announce that it was highly recommended and among the top ten for it's Premiere Mattresses and its Signature was ranked the number one Mattress for back pain.
The criteria Bed Buyer uses to rate Mattress:
comfort
spinal support
build quality
partner disturbance
value for money
"The Dusk&Dawn Premiere Mattress is a stand out in the online mattress market. It uses quality materials and is beautifully balanced with comfort and support. It is Australian made and offers very good value." From https://bedbuyer.com.au/dusk-and-dawn-premiere/
One of the other considerations that made The Dusk and Dawn Mattresses stand out is that you can conveniently order online. Shipping is free to metro areas, and it won't arrive smushed in a box. They will even arrange to remove your old mattress and base for a fee.
Bed Buyer were pleased with how both the Premiere and Signature mattresses arrived well protected- they said the mattresses even looked stylish and had the fine details of quality construction.
Appearance is one thing, but when you dig deeper, the Dusk and Dawn Mattresses boast a complex layering system made of layers of Australian Natura-Wool, an 'Eco-Air' comfort layer, a layer of Elasta-Gel, and premium comfort foams. Inside the layers, there is an 'ISO Coil' 5 Zone Pocket Spring System.
Bed Buyer said, "The Dusk&Dawn Signature Mattress has one of the most sophisticated comfort layers that we have seen."
The outer fabric '3-D mesh Breathable Gusset' allows for extra ventilation. The edge support is rated 'excellent'.
The Bed Buyer team rated the Premiere as offering great pressure relief and comfortable to sleep on in any position; "This feels strong, stable, and well balanced. It also responds to normal sleep movements beautifully, and changing positions requires little effort."
Dusk and Dawn mattresses are also a standout when it comes to hygiene, they use Virase®, a new technology that provides an antiviral effect. The comfort foams are certified non-toxic and eco-friendly by GECA (Good Environmental Choice Australia).
The verdict: Bed Buyer were blown away by the quality, attention to detail and comfort provided by the Australian made Dusk and Dawn mattresses. They highly recommend Dusk and Dawn as providing exceptional value.
Bed Buyer is Australia's #1 Mattress site with over 1500 independent reviews by sleep experts.